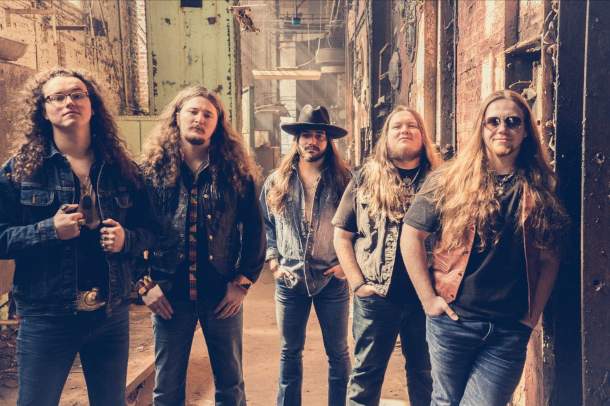 Georgia Thunderbolts just came out "It's OK", The fourth single from their upcoming debut album, 'Can We Get A Witness', released Oct. 15 via Mascot Records / Mascot Label Group. "'It's Alright' is about everyday life," says singer TJ Lyle. "You have ups and downs, whether it's with relationships or friendships. The point is, there will always be better days to come, and the sun has to be shining at some point."
Heralding a new generation of classic southern rock infused with soul and blues, the Georgia Thunderbolts have already been called "timeless" by American Songwriter, "your new favorite southern rock band" by Classic Rock, and proof that "the southern rock continues to thrive in the 21st century "by Rolling Stone. "We're aiming for that timeless, classic sound with a modern twist and a newer attitude," TJ exclaims. "We all grew up on rock music," adds guitarist Riley Couzzourt. "If I could think of three words to describe us, they would be 'Hardworking, Determined and Humble'.
Whether on the banks of the Mississippi or in the heart of the English countryside, rock 'n' roll lives, breathes and burns on the outskirts. Hailing from Rome, Georgia, at the foot of the Appalachians, the Georgia Thunderbolts debut album features their scorching signature style infused with soulful Southern swagger, searing blues and raw rock. With a wide range of inspirations, ranging from southern gospel and Hank Williams to Merle Haggard, Neil Young, Little Feat, Ozzy Osbourne and Lynyrd Skynyrd, the band cut their teeth playing with everyone from the Allman Betts Band and Blackberry Smoke in Kentucky. Headhunters & Black Stone Cherry. Soon after, they hit the iconic Barrick Recording Studio in Glasgow, KY to record with producer Richard Young.
The resulting album features thirteen unmistakable hymns imbued with hymn riffs, wild harmonica and pulsating drums. From the bluesy mix of "So You Wanna Change The World" to "The First Song We Ever Wrote," the dynamic "Looking For An Old Friend," the Georgia Thunderbolts are ushering in a new era of rock 'n' roll, reported by their history in Rome, a city with a deep agricultural history. So when they sing "Spirit of A Workin 'Man" you better believe they really mean it. "It's a deep lesson. You can't knock the little man down," TJ says.
There is a message in what we do, "Bristol says. "It's good to be yourself. If you are going through difficult times, the music will still be there. We would like to remind everyone. "Rock and roll is something that comes naturally to us," conclude Riley, Zach and Logan. "We love it and are here for the long haul. We feel like we can bring it back.
"Can we get a witness" by the Georgia Thunderbolts
1. Take it easy
2. Give a hand
3. So you want to change the world
4. Finding an old friend
5. The mind of a working man
6. Midnight Rider
7. Be good to yourself
8. Woman half glass
9. Dancing with the devil
10. Can I get a witness
11. Walk big man
12. Everything is fine
13. Free me
14. Better Running Of The Beast (bonus vinyl track)
The Georgia Thunderbolts are:
Riley couzzourt [guitar]
Zach Everett [bass, harmony vocals, keys]
TJ Lyle [vocals, harmonica, keys]
Bristol perry [drums]
Logan tolbert [guitar]