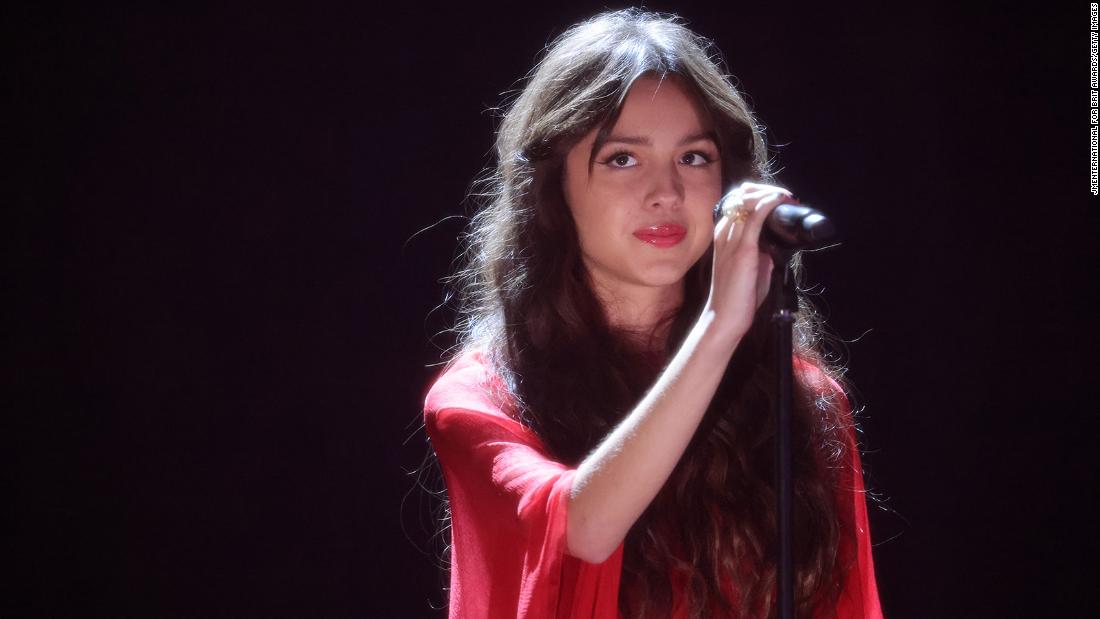 [ad_1]
The teenage star was first criticized by Grunge granny Courtney Love, who called her "rude" for imitating Hole's album cover. Now social media users have blamed her to plagiarize a song by veteran British artist Elvis Costello.
Thankfully, however, Costello proved to be much more forgiving – and even encouraging – about the similarity between his music and Rodrigo's latest offering.
After reading an article about Love's anger accusation this week, a British teenager named Billy Edwards took to Twitter to comment: "The first song on the album is a pretty straightforward cover of Elvis Costello. "
Edwards compared a guitar riff from Brutal, the first track from Rodrigo's Sour album, to Costello's 1978 hit Pump It Up.
Much to Edwards' surprise, Costello himself responded by writing, "That's good for me, Billy. That's how rock and roll works. You take the broken pieces of another thrill and make a brand new toy. This is what I did. #subterreaneanhomesickblues #toomuchmonkeybusiness "
The British singer-songwriter, who rose to fame in the 1970s, appeared to suggest his song was borrowed from Bob Dylan's 1965 track Subterranean Homesick Blues, which itself was inspired by Chuck Berry's Too Much Monkey Business. 1956.
Earlier in the week, Love took to Instagram to comment on Rodrigo's promotional photo for his concert movie "Sour Prom".
The photo shows Rodrigo as a prom queen with mascara on his face and is reminiscent of the cover of the Love Hole band's "Live Through This" album in 1994.
"Find the difference! #Twin," Love captioned Instagram.
Rodrigo, who is best known for her roles in Disney's Bizaardvark and High School Musical series, responded in the comments section, writing "I love you and live this so much."
On her Facebook account, Love was a little more direct in her comments, writing: "It was rude of her, and [Rodrigo's record label] geffen not to ask me where ['Live Through This' cover photographer] Ellen von unwerth. "
Complaints of plagiarism are not uncommon in the music business. Last year, UK rock band Led Zeppelin won a long legal battle over stealing the opening guitar riff for their 1971 signature song "Stairway to Heaven" from a track by US band Spirit.
In 2015, a jury ordered Robin Thicke and Pharrell Williams to pay $ 7.4 million for their hit Blurred Lines, which sounded like Marvin Gaye's 1977 hit, "Got to Give It Up."
In 2019, Katy Perry was ordered to pay damages in a copyright infringement case involving her song "Dark Horse," which sounded a lot like a Christian rap song.
[ad_2]