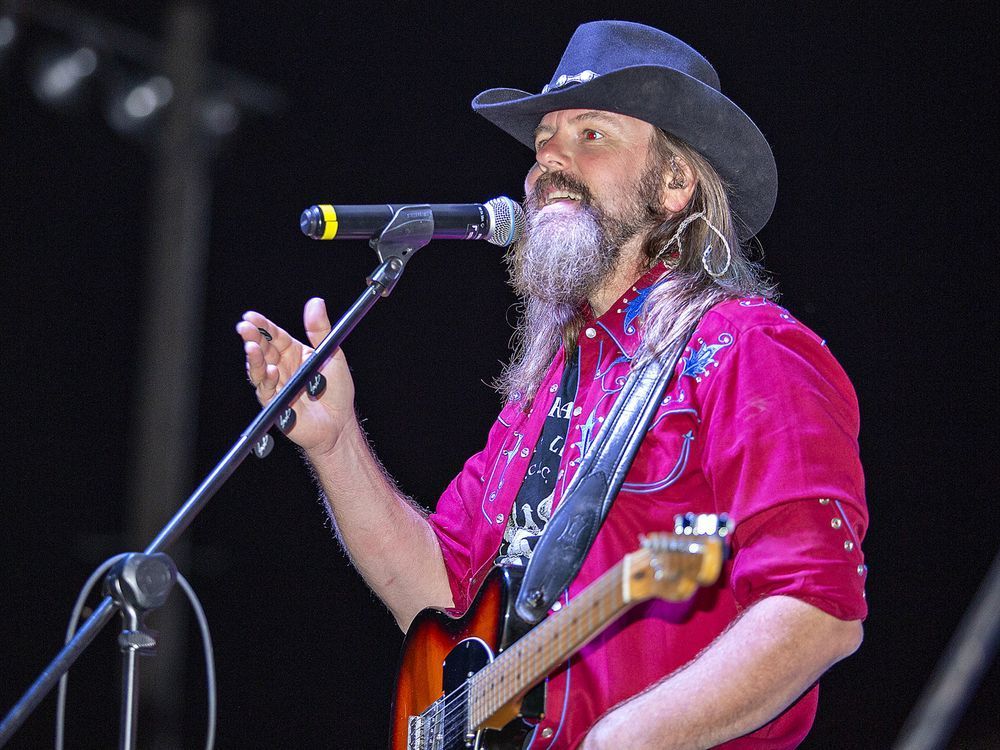 Content of the article
Canadian country music artist Murray Williams performed one of his first shows at the Burford Fairgrounds over 40 years ago.
Content of the article
He did it again on Friday night, opening for Country Roots Music Festival 2022.
The two-day festival was a dream come true for Williams and her daughter Carolyn Aucoin, wanting a way to support Make A Wish Canada which seeks to grant wishes to children with life-threatening illnesses.
Father-daughter residents of Brant County witnessed the positive impact on a family member who was granted a wish trip, citing it as a primary motivation for hosting the festival.
"It was an exciting weekend," Williams said. "We've made sure people know what it's about, and people have been very generous.
"We are on track to make a good contribution to Make A Wish Canada. People are already asking for next year.
After playing as the opening act, Williams spent the rest of the festival conducting the soundboard and helping with set-up between bands.
Content of the article
"It's beyond what we expected," he shared. "There are nearly 100 trailers in the camping area. They lined up here for two hours before the campers opened on Thursday.
Aucoin was just as busy throughout the weekend, coordinating volunteers and performing a myriad of behind-the-scenes duties.
"I wish I could have been here as a participant and understood everything," she said. "But I had little glimpses here and there. When I went to see my dad at the soundboard, I turned around and said, "There are people here."
The list of performers included: Murray Williams Band; Mike Pollard; John Atlee Band; Mackenzie Leigh Meyer; Michael Warren; Greg Williams; Naomi Bristow; John Anderson; Southbound; The Darren Hancock Group; Jess and Tay; Jesse Slack; Sarina Hagarty; and Jason McCoy.
Content of the article
Haggarty, a 23-year-old pop singer/songwriter from London, performed a short set and shared her story as a Make A Wish recipient.
"I had brain surgery when I was 16 and then became a dream child," she said. "It's amazing what Make A Wish has done, and I feel very lucky to have been involved."
Haggarty's wish to perform on a big stage came to fruition when Canadian artist Shawn Mendes let her take the stage at his 2017 concert in Cleveland, Ohio.
She has since traveled to Arizona and Ireland, and will soon be touring the UK.
By the time headliner Jason McCoy took the stage on Saturday night, around 1,000 people were seated in lawn chairs and in the beer garden to watch the 25-year Canadian country veteran perform the hits of his solo career and his country-rock group The Road Hammers.
Content of the article
At one point during his performance, McCoy paid tribute to the late Terry Sumsion – one of his favorite singers growing up – by performing Sumsion's hit song Our Lovin' Place.
Sumsion lived near Harley, Ontario and enjoyed a successful country music recording career before passing away in 2011 at the age of 64.
Wellesley's Jordan Shaw and his wife Tricia were among those who camped out for the festival.
Frying burgers in a cast iron skillet on a Coleman stove outside their 32ft trailer, Shaw admitted to being a big fan of the John Atlee Band and smaller music festivals.
"It's not like you go to a big show like Garth Brooks where there are 50,000 people, and the crowd drowns out the music," he said. "Here you can hear them playing and feel their feelings. For me, that's what it's all about. It's a really good hometown feeling.