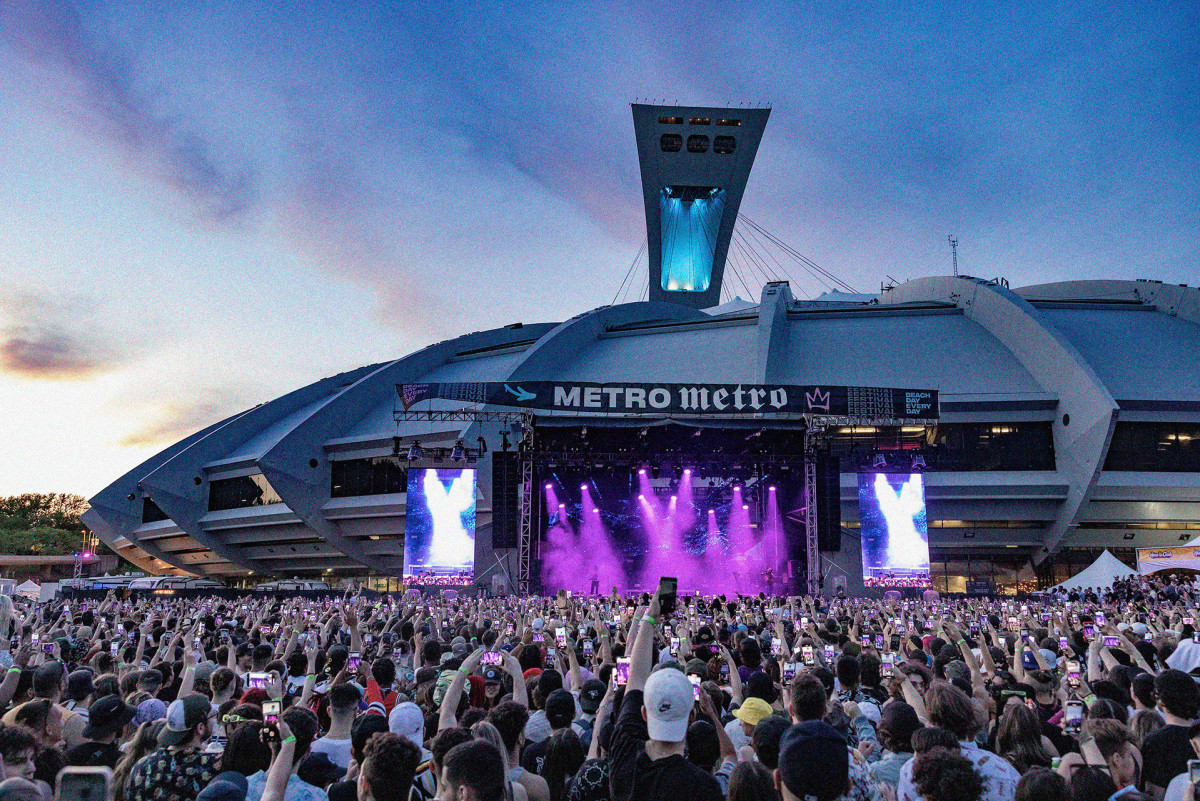 For the past two years, the idea of ​​attending a Canadian music festival has seemed like a pipe dream to many. There were high hopes when bookers announced their lineups, but recurring waves of COVID-19 crushed them as government restrictions once again prevented live broadcasts. Nonetheless, there seems to be some light at the end of the tunnel for needy music lovers.
Over the past few weeks, many of our country's most beloved outdoor festivals have announced that their return bills are expected to take place over the next few months. From an outside perspective, everything seems to be going well again in the music world. However, from an insider's perspective, planning a festival in the post-pandemic era has been no small feat.
Several factors have contributed to the many nuisances event bookers have found themselves juggling to organize a festival amid endless uncertainty surrounding the virus. Ever-changing provincial and federal health guidelines regarding vaccination status, travel restrictions and mask-wearing mandates were just the tip of the iceberg. Festival budgets after years of declining revenue, the availability of artists amid stiff booking competition and the great unpredictability surrounding further lockdowns have all weighed heavily on the minds of bookers hoping to get back to normal while gauging their levels of risk.
"We've booked Osheaga three times to do it once," said Nick Farkas, senior vice president of booking, concerts and events at Evenko. "We booked it in 2020, booked it in 2021, and now we're booking it again in 2022. The uncertainty, I think, is the biggest factor – the artist's uncertainty, wondering if Canada would be open, what were the current restrictions being? I think all of this adds a complexity and an element to the whole process that made it more stressful.
As one of the largest live entertainment companies in the country, Farkas and his team have had the heavy responsibility of booking several Evenko summer festivals at once – Osheaga, Ile Soniq and the first edition of Lasso. With an increase in staff turnover since the start of the pandemic, many staff members had never experienced the chaos of festivals behind the scenes before.
"After 36 months, you're missing a bit of training."
"The biggest challenge we're going to have is not having done full festivals in 36 months," Farkas said. "While supply chain issues are what everyone is talking about, staffing is an absolute nightmare. Trying to find enough security guys, enough cooks, you know, there's just a shortage of people working. What we have noticed is that we have a lot of new employees who have never participated in festivals before. There's a huge learning curve for our existing employees to train new ones, and like I said, after 36 months you're missing a bit of practice.
When the pandemic first hit in 2020, Montreal's new hip-hop festival Metro Metro was forced to cancel its second iteration. On the dropped bill were headliners Travis Scott, 50 Cent and Young Thug, among many other heavyweights scheduled to perform. After two years, the organizers found themselves in a different predicament than when they initially left.
"We started booking in August 2021," said Jonathan Marchitello, owner of the festival's organizing company, Midway Group. "We've had a bunch of names that don't appear on the [new] line up. The biggest challenge came in December when Omicron hit. We didn't know what was going on. We didn't even know if there would even be any festivals at all this season.
At the time, scheduled dates for Metro Metro were still up in the air. While Marchitello hoped it would take place in May like its predecessor in 2019, Midway Group's partners at the Olympic Stadium tried to push the festival even further.
We were changing all the dates and pushing them back to July," Marchitello added. "Then, out of nowhere, things started to look up. That's when we decided to go back to our original date in May, but by then all of those artists had already been booked.
As a result, Metro Metro's 2022 lineup was very different from what their second anniversary would have looked like, with only a few artists falling behind the original booking.
To make matters worse, the Montreal hip-hop festival lost two of its three headliners in the space of a few weeks. Young Thug was arrested for violating the Racketeer Influenced and Corrupt Organizations Act (RICO), while Playboi Carti was allegedly denied entry to Canada, according to Midway Group owner Olivier Primeau. Also, Fivio Foreign dropped out without explanation.
Midway Group were quickly able to replace the headliners, with Trippie Redd and Tory Lanez replacing Young Thug, 50 Cent replacing Carti and Sheck Wes taking the timeslot from Fivio Foreign. (Not to mention a surprise appearance from Drake during Lil Baby's set.) Despite a quick turnaround, fans still expressed their anger on Metro Metro's Instagram page, prompting Primeau to react.
"People who are mad at us don't understand how complicated it is to organize a festival the size of Metro Metro," writes Primeau. "If you want to be mad at someone, be mad at the artist who told us for four months that everything was fine, then 48 hours before the festival told us that he would have problems getting into the country."
"Hip-hop has grown exponentially during the pandemic. There were average performers that we paid $50,000 to $60,000 per show who are now charging $100,000 to $120,000.
While Metro Metro may have been the first Canadian-based hip-hop-centric festival of 2022, fan-favorite Rolling Loud recently unveiled its first Canadian iteration slated for early September in Toronto. When booking it, Rolling Loud founders Matt Zingler and Tariq Cherif spent countless hours assessing which artists would be attracted enough for the festival. When asked what their struggles were, one of their reps referred us to the Rolling Loud New York 2021 Complex recap and described how their struggles with booking a Canadian edition were quite similar to those of the edition. from last year while planning their post-pandemic comeback in Miami. .
Many of these struggles have been echoed by other Canadian music festivals like Festival Santa Teresa, located in the Montreal suburb of Sainte-Thérèse and featuring Jimmy Eat World, Princess Nokia and $NOT.
"A lot of these shows have been postponed or canceled, so when we reached out to some bands, they had already been booked and their schedules were full," said Patrick Kearney, general manager of Santa Teresa.
Creating star-studded programming strong enough to convince viewers to leave their homes was only half the battle. With minimal revenue after two years of no revenue, festival budgets have become a real concern.
Santa Teresa, a small festival compared to large draws in Quebec, said it took care of its financial planning before receiving government grants from federal and provincial agencies. Kearney credited the early ticket sale for easing some cash flow stressors ahead of government funding.
To make matters worse, not only are festivals now working on a tighter budget, but the majority of artist booking costs have increased over the past two years.
"90% of artists' prices are up from what they were charging in 2020," Marchitello said. "I mean, hip-hop has grown exponentially during the pandemic. There were average performers that we paid $50,000 to $60,000 per show who are now charging $100,000 to $120,000.
Even festivals on the other side of the country have felt the effects of a tight budget.
"We are starting this year with a more modest budget," said Debbi Salmonsen, artistic and executive director of the Vancouver Folk Music Festival. "That's why we've reduced one of our daytime stages, hoping to try to offset some of the extra COVID-related expenses or health and safety expenses that we're going to be adding this year."
Despite the COVID-related expenses that some festivals choose to spend to keep their concert patrons safe during their experience, even estimating how many people will actually come for such large gatherings is up in the air.
"With two years of going digital and with people all having different comfort levels attending live events, even if they are outdoors and in beautiful beach parks, ticket sales are a uncertainty this year," Salmonsen said.
Many festivals have found themselves in a difficult situation between wanting to ensure the health and safety of fans while trying to maximize profits and see a return to normal. With various provincial governments changing their rules frequently and without warning, festivals have had to adapt and prepare for the possibility of stricter rules as cases begin to rise.
"The Festival d'été de Québec (FEQ), along with several other major event bookers, co-signed a letter sent to the Government of Quebec in February stating that if we wanted to have a festival season this summer like those pre-COVID , we needed confirmation that there would be no social distancing," said Anne Hudon, Executive Director of the FEQ. Many bookers feared that additional terms would ruin any chance of normality at the festival.
Yet despite all the bumps and roadblocks along the way, festivals are looking to resume at full speed in the weeks ahead. With thousands of concerts and hundreds of festivals scheduled across the country, avid music fans will have no shortage of choices to keep them busy and happy this festival season.
"I want to say something positive is that we feel really blessed and lucky to be able to come back with a live event," Salmonsen said. "We hope that we will have another decade ahead of us and people who will join our festival. I think these artists are super excited to come play and we're really happy to help them do that. The majority of people we hear from are really excited that we're coming back and having our event continue and I hope that's true for other festivals across the country.
"I think the most motivating thing will be the energy we get from making the festivals happen and the team coming together for it all. That will be when it will all be worth it," Farkas said.
Like a breath of fresh air, bookers can soon breathe a sigh of relief knowing their struggles were worth it.