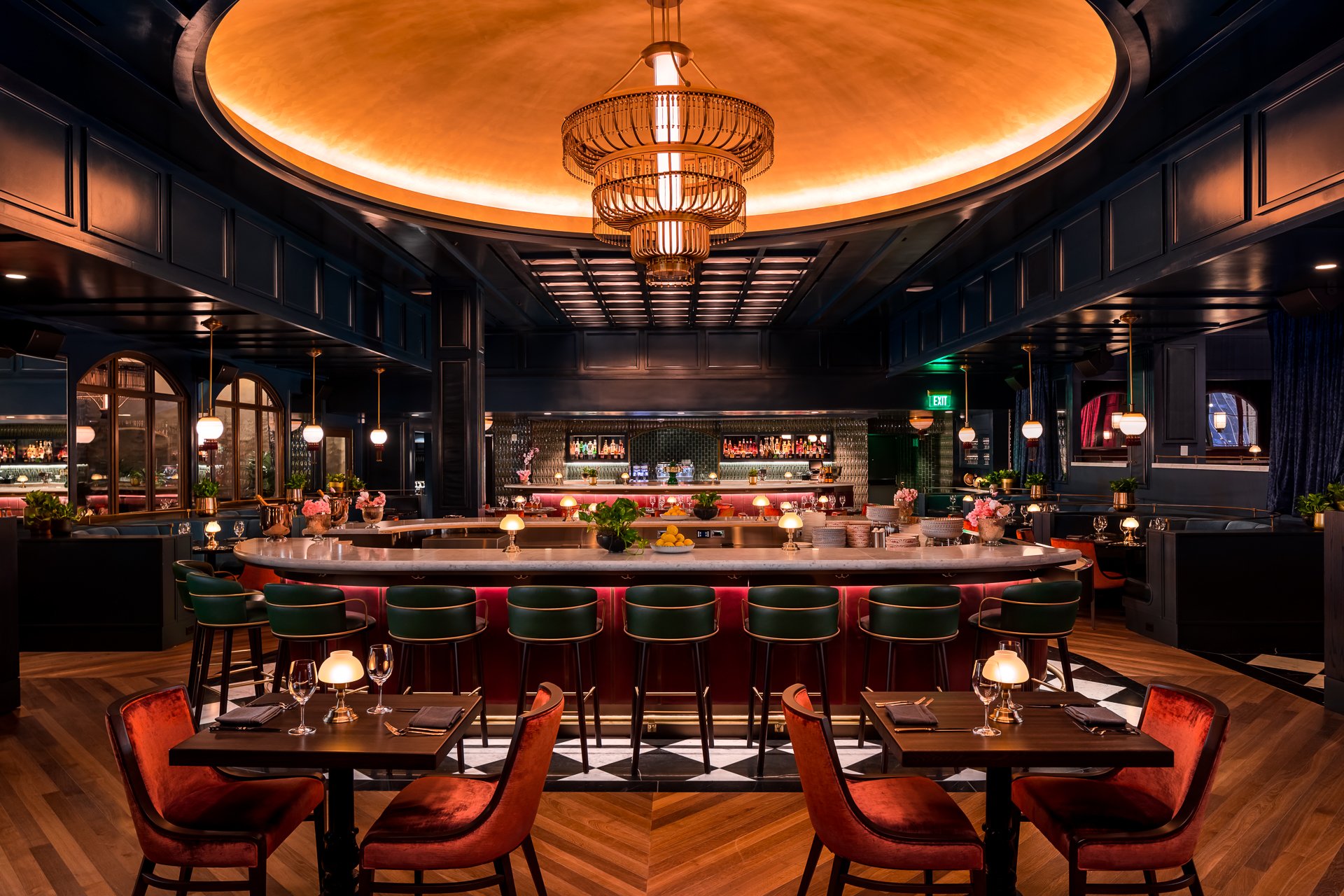 HOTEL W
Modern global chain W Hotels & Resorts finally opened its Nashville location last October – a 14-story reflective glass tower in the heart of the turned-chic industrial district of Gulch. With 286 guest rooms and 60 suites, more than any other hotel in the area, the W Hotel Nashville exudes a unique and interconnected urban feel, dotted with charming and specific gathering places.
Inside, a "Welcome Den" also serves as a private bar in the lobby, a "Secret Garden" facilitates private encounters with nature, a "Living Room" reminiscent of a high-end recording studio (with pyramidal acoustic ceiling panels) and a "Sound Room" indoor / outdoor event space is hidden behind a wall of speakers. A mix of city views and common spaces emphasizes the kind of interior-exterior fluidity characteristic of southern architecture, as well as six different street access spots, including the favorite local café. Barista Parlor. "The W Nashville is not only in the neighborhood is part of it, "says Tom Jarrold, Global Brand Leader for W Hotels Worldwide.
Conceived and designed by David Tessier and Anna Gomez of Hospitality Gaming Advisors with local partner Mark Bloom, the project was carried out by HKS Architects. The public spaces and rooms of the Rockwell group incorporate robust and historically popular local materials like iron, steel and wood, embellished with specific references to the music industry: rawhide, stud details, speaker fabric. and exposed concrete. The luxury industrial rooftop bar, inspired by historic Gulch railway station, features exposed air ducts, steel beams, a steel corner fireplace, polished concrete floors and split wood panels backlit panels made from beams salvaged from a local tobacco warehouse in the 1800s.
TWELVE THIRTY CLUB
A multi-level art deco wonder located just beyond the crowded tourist shops and noisy dive bars of Broadway, The Twelve Thirty Club joins the best of two seemingly opposing worlds: fine dining and live music. Born from the idea of ​​12-time James Beard Award nominee Sam Fox and pop music icon Justin Timberlake, the three-story, 30,000-square-foot club is both colossal and dramatic. With interiors designed by award-winning international design firm AvroKO, the space includes three separate concert halls, several huge dining rooms, two VIP dining rooms for private parties, and an expansive outdoor rooftop terrace, all connected by a surprisingly sophisticated, albeit slightly surprising structure. , art deco theme.
Guests drawn to live music from the large front windows of the first-floor Honky Tonk can order drinks from the marble bar, then climb the grand wooden staircase to find the elegant 400-seat, jewel-toned Supper Club, flanked by a bespoke wine wall featuring 1,800 rare and vintage bottles. The dining room features gold leaf ceilings, plush burgundy curtains, and lounge chairs stuffed with burnt sienna arranged around a stage. Paired with opulent antique lighting and crimson velvet accents, the space suggests a sort of extravagant warmth, somewhere between the Titanic's Grand Ballroom and the after-hours Gatsby Lounge.
"We continued to revolve around an intriguing genre / scene known as 'countrypolitan', a movement in the 1960s and 70s that signified a junction point between new and old musical themes," says Adam Farmerie, director at AvroKO. "During this period, the music and the shows were advertised with the help of these incredible flyers in rich colors, both deaf and saturated, that we used in the various spaces – green on the ground floor, mixing with greens and golds on the mezzanine, mixing with golds and blues on the second floor.
AUDREY
Audrey, a new restaurant and concept space from local chef Sean Brock, opened in East Nashville in October. The eclectic and heartwarming design of Nashville's Powell Architecture + Building Studio blends Brock's Appalachian palette with subtle elements from his other culinary inspiration, Japan.
Audrey is divided into distinct sections, each resonating with similarities in texture and shared materials, creating a kind of warm and welcoming minimalism. The main dining room evokes the grassy, ​​tree-covered landscape of the Appalachians, with green chenille banquettes, native wood, an open kitchen, hand-raked porcelain ceiling tiles inspired by the basketry tradition of the South and ornate walls from Brock's personal collection of Southern Folk Art.
Upstairs, a modern black-and-white palette contrasts with warm wood accents: a blackened steel bar topped with vivid walnut sits at the top of the main staircase, surrounded by custom-made Japanese-style living room furniture from local live edge white oak. There's an intimate dining room for chef's tastings and small gatherings, and a 'research and development lab' with concrete counters and high-tech equipment, designed for the type of specialty food preservation projects for. which Brock is known for.