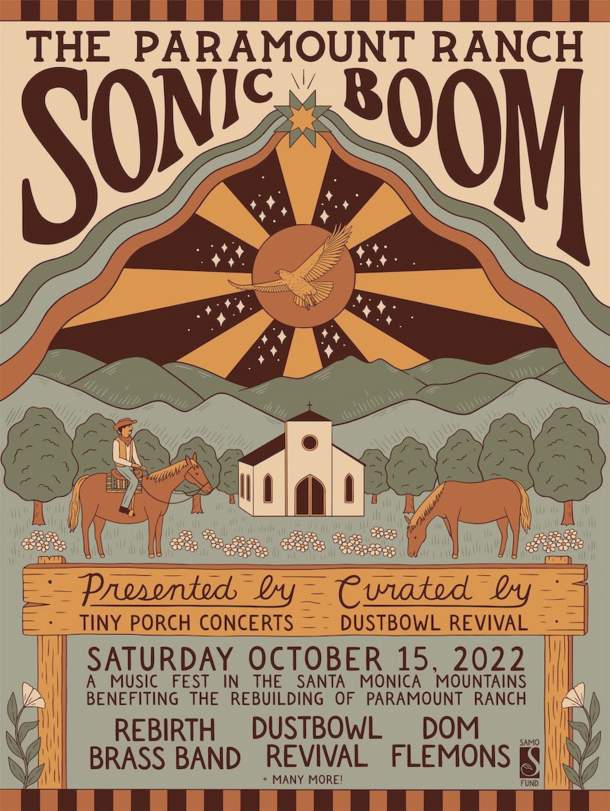 American roots music collective Dustbowl Rebirth has partnered with Tiny Porch Concerts to launch the Paramount Ranch Sonic Boom Fest, which will also feature performances by Grammy winners Rebirth Brass Band, Dom Flemons and more. The special one-day celebration of music, presented with the support of the Santa Monica Mountains Fund and the National Park Service – will be held October 15, above Malibu, Calif., at the historic Paramount Ranch in Agoura Hills.
Devastated by the Woolsey Fire in 2018, the ranch – and its "Western Town" section – is a landmark in film and TV history, having provided the setting for countless classics over the decades. , from The Cisco Kid to Dr. Quinn Medicine Woman and Westworld. Proceeds from the Sonic Boom Festival will go towards restoring and rebuilding the Paramount Ranch.
The festival – a one-of-a-kind event hosted and hosted by Dustbowl Revival – is an idea the band have been working on for a long time, and their excitement to make it happen is palpable. They had already launched five wildly successful virtual Sway-At-Home streaming festivals during the pandemic, featuring more than 30 artists and generating 250,000 views worldwide. "Sway-At-Home made us want to bring the magic of a roots music festival to LA for real," said Dustbowl frontman Z. Lupetin. "Now, with Sonic Boom, a big dream is coming true. After years of planning and dreaming, we are finally launching our very own music festival!"
In addition to the festival's impressive musical headliners and soon-to-be-announced expanded lineup of artists, Sonic Boom attendees will also be able to enjoy local craft vendors, food trucks and unique jamming experiences on the festival grounds.
Doors open at 11 a.m. on October 15 and the music starts at noon. General admission passes are $45. A beer and wine tasting package is also available for $85 and includes parking, festival admission, and access to the beer and wine tasting corral from 3-5 p.m. Tickets for children (ages 4-12) are $20 and admission is free. for children under 4 years old.
Paramount Ranch Sonic Boom Festival tickets are available here.