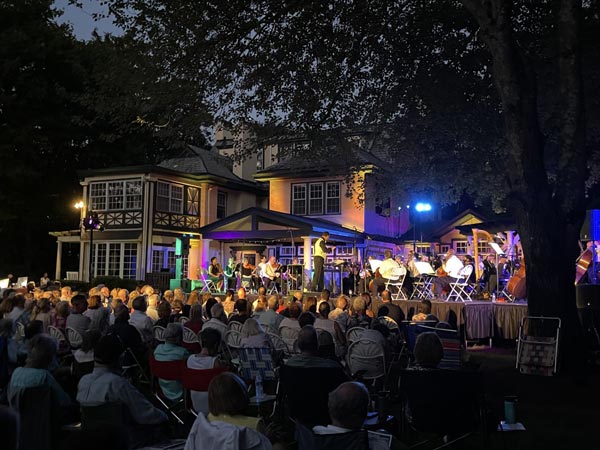 NEW | FEATURES | PREVIEWS | EVENTS
originally published: 09/12/2022
(WESTFIELD, NJ) — The New Jersey Festival Orchestra returns on October 1 with another outdoor concert in Westfield featuring music by Gershwin, Copland and more, and a special appearance by acclaimed NY Metropolitan Opera baritone Stephen Gaertner.
Maestro David Wroe, Music Director and Conductor of Westfield's Professional Orchestra, said he was delighted to perform "From Olden American Times" in the gardens of one of Westfield's finest residences.
"We are delighted to be able to organize one last outdoor concert. The Hertell Gardens 'experience' – under the stars, an acre of bucolic grounds, theatrically lit, acoustically enhanced, one of Westfield's grandest mansions as a backdrop – is back by popular demand for one last outdoor party. Come and witness one of the last sunsets of summer with an unforgettable artistic and social experience and a party for the whole family.
October 1 will feature a "touch of the folksy" Americana program featuring the Appalachian flavors of Copland's old american songsby Gershwin Porgy and Bess Fancy and even Stravinsky's pastorals, gavottes and tarantellas.
American baritone Stephen Gaertner, who made his Metropolitan Opera debut in 2007, will join the NJFO to perform a number of Copland's most beloved songs that capture both the grandeur and intimate details of life and legend. songs including "The Boatmen's Dance," "Long Time Ago," "Simple Gifts," and "I Bought Me a Cat," and more. These songs are some of the most popular and beloved classical music of our time. whether in concert halls or in popular culture.
Advertise with New Jersey Stage for $50-$100 per month, click here for more info
---
With a change of pace, the orchestra will also present the music of Gershwin Porgy and Bess Fantasy featuring a wealth of soulful melodies, memorable tunes, not to mention powerful and dramatic instrumental interludes, taken from arguably America's greatest folk opera. Audiences will be thrilled by the orchestral sounds of 'Summertime', 'That's Not Necessarily So', 'I Got Plenty O'Nuttin', 'My Man's Gone Now' and many more, from one of most famous American works of the 20th century.
"It's music for America's Musical Constitution – '…of the people, by the people, for the people," enthused Wroe.
The concert, made possible in part by the NJ State Council on the Arts, will be professionally staged and lit.
"This concert is going to be another phenomenal event," said NJ Festival Orchestra Board Chairman Keith S. Hertell. "We transform my grounds to create a fully professional outdoor performance experience. We build a symphony stage to accommodate 30-40 musicians and conceptualize a "vibe" for each room with exciting lighting. We bring sound enhancement technology to evenly distribute the sound of the orchestra across the entire pitch. This is a huge undertaking and we are deeply grateful to the NJ State Council on the Arts for their support.
If you are going to: The performance on Saturday, October 1 begins at 7:00 p.m. Bring your own lawn chairs and refreshments to NJFO Chairman of the Board Keith S. Hertell's back garden at 241 E. Dudley Avenue in Westfield. Guests are invited to arrive as early as 5:00 p.m. to settle in and enjoy the sunset. VIP seating is available for those who wish to enjoy limited access to a reserved section of NJFO seating located near the stage.
Yifei Xu, a concert pianist playing with the orchestra, will offer a free optional lecture before the concert at 6:00 p.m. in the back garden. His lecture is an informative and engaging way to learn more about the program and the composers on offer.
Free street parking and full accessibility available.
Tickets ($40 for general admission on the lawn, $85 for VIP reserved seating, chairs provided) can be purchased online at www.njfestivalorchestra.orgby phone (908) 232-9400 or in person at the NJFO office, 224 East Broad Street in Westfield.