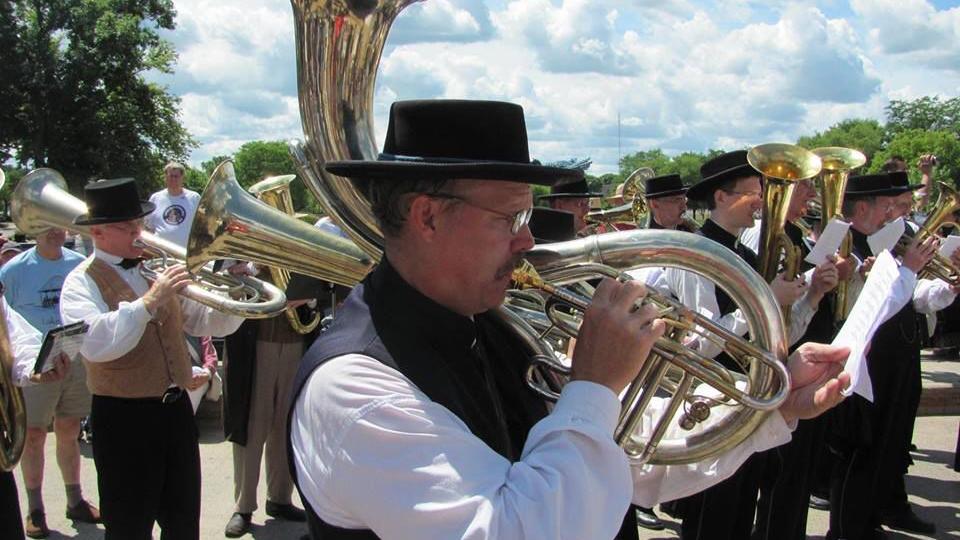 Thanks to the vaccine and the reduction in COVID-19 infections, this summer you can once again nod, snap your fingers and dance in front of your favorite band like no one is watching you.
Let's take a look at the festival that returns in the summer.
If you like the country: WE Fest
The famous celebration of all things in country music is gearing up for the 37th year. From Thursday August 5 to Saturday August 7, the festival for all ages will take place in the rain. Tickets can be purchased with a 1 day ticket or a 3 day pass. Book a campsite to stay closer to the action. If you want to get to know your friends, be sure to come with them. It is not necessary to save a specific campsite in advance. This year's lineup includes Florida Georgia Line, Dierks Bentley and Blake Shelton.
Bonus: another Camp Out Country Fest will take place in Winstead from August 20-21. Winstock will be titled by Sam Hunt and Luke Combs. Early, the campsite fills up quickly.
If you like jazz: Twin Cities Jazz Festival
The Twin Cities Jazz Festival is back with a live event scheduled for September 17-18 at Mears Park in downtown St. Paul. Details will be announced at a later date. However, TCJF has already hosted several live shows and offers even more services through the Jazz FestLive live stream. You can either check out their Facebook page or book your pitch with one of their upcoming CrowdCasts. And they accept donations, all of which are free.
If you like calming music: Shangri-La
If you want to get in touch with nature and shake it up, Shangri-La can be the perfect choice. The open-air festival at Harmony Park on Labor Day weekend features lineup from different genres such as Wookiefoot, Trevor Hall, The Reminders and Lowdown Brass Band. Camping is an important part of the festival, as is the effort to keep the event clean and green. Guidelines for waste reduction are available on the event website. One of the changes this year is that you must be at least 18 years old to participate.
If you like funk: Lowertown Blues and Funk Fest
Instead of a big event at Mears Park this year, Lowertown Blues and Funkfest continues as a concert series at Dual Citizen Brewing in St. Paul. It's too late to talk about the June show, but you can see Good, Bad, Funky on July 10, or Bernard Allison on August 14. Both events are for all ages and are generally free to donate. To the organization here.
Bonus: Lowertown Blues and Funk Fest also have a daytime show at Mears Park on Sundays. Discover the latest programming on our Facebook page.
If you like variety: by the river
Get your lawn chairs ready and head to Rochester's Mayo Park every Sunday starting July 11 for a free and unique musical experience. Down by the Riverside is another event that takes the form of a concert series rather than a weekend show, but lacks that upcoming lineup of things like Lindsay El, Chastity Brown, Smash Mouth, and Polycarbonate. You do not want.
Bonus: The Minnesota Fringe Festival, which takes place directly online August 5-15, will feature all kinds of performances, including great local music.
If you like rock: Moon Dance Jam
When you're ready to rock and camp, head to the Moon Dance Jam in Walker, Minnesota July 22-24. Headliners include Halestorm, Cheap Trick, and Todd Rundgren. You can choose from a variety of ticket packages, and tickets and passes purchased at last year's canceled event will also be valid for this year's show.
If you like the blues: Bayfront Blues Festival
Enjoy the refreshing breeze of the blue waters of Lake Superior while enjoying over 20 performers at this blues festival. The festival will be held at Bayfront Festival Park August 13-15. Again, you can choose from a variety of ticket packages. Buy early and get a one-day general admission ticket for $ 59. Headliners include Fabulous Thunderbird, Tab Benoit and CJ Chénier.
For nearly a month in July, the festival will take the form of a series of concerts, performances and lectures in several venues around the Iron Chain. Tickets can be purchased online or directly. The program includes not only international artists, but also young award-winning artists.
If you like big bands: Vintage Music Festival
Lots of horns sound at this July 31st festival in Northfield. 11 groups will perform for 12 hours at Bridge Square in the downtown area of ​​the city. Many groups offer jazz and swing as well as big bands, so bring your own dancing shoes. The event is free and you have the option of making a donation. Bring brass!
If you like bluegrass: Minnesota Bluegrass August Festival
Held at El Rancho Magnana in Richmond, the festival runs August 5-8 and features great music and workshops. Tickets featuring High 48's, Sam Bush Band, Sideline and more are currently on sale and admission is free for children under 12. If you have your own banjo, violin, bass, guitar or mandolin, bring it along and learn new things at the workshops that take place during the festival. Or just in case someone nearby wants to take part in an impromptu jam.
Bonus: If you need more festival activity, float near the Prairie Island Campground for the Boat and Bluegrass Festival September 23-25. As the name suggests, there are boats! The lineup has yet to be announced, but tickets are on sale now – free for children under 16. This festival focuses on having fun and keeping the area clean after the fans leave. Make sure you read the rules before you go.