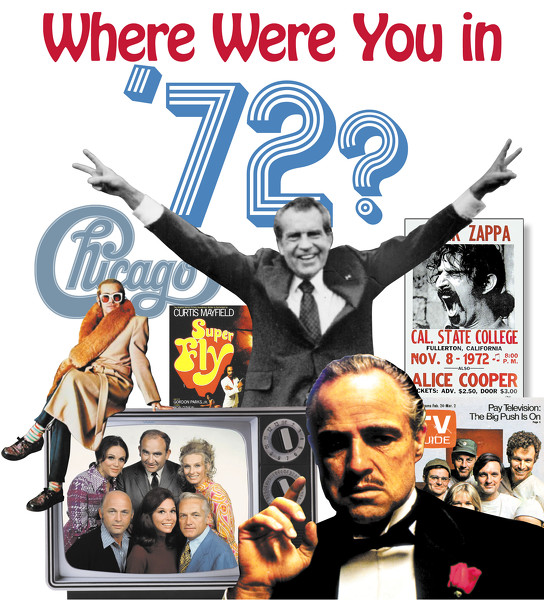 Saturday, April 9, 2022
Pop culture exploded 50 years ago
By Leslie Gartrell
WAPAKONETA — Pop culture in 1972 saw Richard Nixon's landslide, "The Godfather," the rise of major music festivals, and "Pong," the first true video game.
Matthew Donahue, a professor at Bowling Green State University in the Department of Popular Culture, spoke about pop culture in 1972 at the Armstrong Air and Space Museum in honor of the museum's 50th anniversary. His speech was largely centered on the music of 1972.
"Popular culture is anything and everything in our daily lives, such as music, movies…books, advertising, clothes…food, internet culture, comics, and vacations" , did he declare. "The study of popular culture as new humanities allows for a deeper understanding of our humanity and should be celebrated."
The United States is a leader in pop culture, Donahue said. Pop culture helps people understand what happened at any given time. For example, 1960s pop culture was heavily influenced by political turmoil with the Vietnam War and the rise of Cold War politics, Donahue said.
The 1960s are also known as the "We Generation" given the political protests and civil rights movement. In contrast, those who grew up in the 1970s are often referred to as the "me generation", which is often portrayed as narcissistic and complacent, he said.
"The characteristics of popular music in the 1970s were very diverse and moved very quickly," he said. "Really, really dynamic, and so many different genres (came out of it)."
1970s rock is often referred to as "corporate rock", as the major record labels took an interest in the type of music that only independent labels like Chess Records had promoted in the 1950s. The 1970s also brought birth to arena rock, where musicians moved from performing in clubs and smaller venues to sold-out arenas and music festivals.
Music festivals such as Woodstock, Monterey Pop Festival, The Isle of Wright and Miami Pop Festival helped set the stage for rock and roll festivals to continue, Donahue said. One of the most notorious festivals of the 1970s was the chaotic Altamont Rock Festival near San Francisco in 1972, where the Rolling Stones hired the Hell's Angels motorcycle gang to provide security, resulting in the death of a spectator.
Rock dominated the music scene in the 1970s, Donahue said. The musicians fused rock with jazz, pop, rhythm and blues, country and classical music to create a diverse music scene, he said, similar to today's musicians who mix genres .
One of the pioneers of musical crossover is Miles Davis, said Donahue, whose 1970 jazz fusion album "Bitches Brew" broke new ground. Davis saw that young people were turning away from old-school jazz and wanted something that could go along with rock music, he said.
Davis surrounded himself with other musical luminaries such as John Coltrane, Herbie Hancock and Chick Corea who went on to enjoy successful solo careers in the 1970s.
Artists like Eric Clapton, ZZ Top and George Thorogood successfully blended rock with blues and maintained their popularity today.
The intersection of rock and soul/rhythm and blues gave rise to the funk movement, Donahue said, which blaxploitation movies of the 1970s brought to the fore. The soundtracks of many blaxploitation films were made by funk artists of the time, Donahue said. The soundtrack to the 1972 film "Super Fly" was directed by Curtis Mayfield, featuring the theme song "Freddie's Dead" and the anti-drug anthem "Pusherman".
Rock and classical music have combined to create prog rock, also known as prog rock, Donahue said. Progressive rock songs could be well over six or 10 minutes long, providing an orchestral listening experience.
The musical styles of Pink Floyd, Yes, Jethro Tull and Emerson, Lake & Palmer featured complex instrumental and compositional techniques. Jethro Tull's "Thick as a Brick" was one of the best-selling albums of 1972, Donahue said.
Bands such as Lynyrd Skynyrd, The Allman Brothers Band and The Marshall Tucker Band were known for the rock and country crossover of Southern rock.
The Eagles' self-titled debut album and Deep Purple's classic "Smoke on the Water" debuted in 1972, Donahue said.
Artists such as David Bowie and Alice Cooper brought their own flair and drama to rock, Donahue said, with Bowie releasing "Starman" from "Space Odyssey" and Cooper's "School's Out" in 1972, Donahue said.
Additionally, 1972 was a pivotal year for rock and feminism, Donahue said. Aretha Franklin released "Young, Gifted and Black" in 1972, and Roberta Flack had success with her album "First Take." Carly Simon's earworm "You're So Vain" was also a popular track that year, he said.
Donahue also talked about seeing pop culture through the lens of myths, icons, rituals, stereotypes, and heroes.
People who grew up in the 1970s can relate to the ritual of going to the record store and flipping through albums, the iconic sound and imagery of the electric guitar, and the myth that music is bad for young people. Donahue said.
As the program ended, audience members reminisced about double-sided albums, quality disc jockeys, and trying to make mixtapes by picking up songs from the radio.